Last Revised: 3/3/2012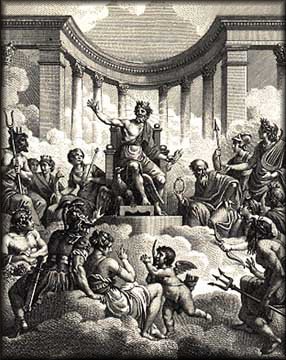 Penfed has introduced their latest rewards card, the Platinum Rewards Visa Credit Card, and let me tell you, it's worthy of a seat on Mount Olympus (ok Zeus, I know that's not my call to make). The real gem of this Penfed credit card is the 5 points per dollar on gas purchases, and 3 points per dollar at supermarkets (1 point on everything else).  That makes it a powerful niche credit card to have in your wallet, but read on to get the details.
Summary of the Penfed Platinum Rewards Credit Card
Earning Rewards
Base rewards:

5 points per dollar of spend on gas
3 points/$ on supermarkets
1 point/$ on all other spend.

Sign up bonus: 5,000 points
Spend-Range bonus: 20,000 points when you spend $1,000 within first 3 months.
Points Expiration: Points do not expire.
Points Caps: None
Redeeming Rewards
Dollar value per point: $0.01
Best redemption method: Visa Cash Cards
Fees, Other
Annual fee: None
Foreign transaction fee: None
Balance transfer offer: 1.99% APR for 24 months with a 3% transfer fee (capped at $250).  Offer available through 3/31/2012.
A Closer Look at Earning Rewards With the Penfed Platinum Rewards Card
What can we say?  The ability to earn 5 points per dollar on gas purchases, coupled with 3 points per dollar on supermarkets, is pretty awesome.  The last time I checked, even Charon was using this card.  (I guess he uses an outboard motor these days).
The sign-up and spend-range bonus, when taken together, are also nothing to scoff at, and are worth a cool $250 in cash.
Redeeming Penfed Platinum Visa Rewards
While you can redeem for gift cards, travel, and merchandise, we at GetDebit always bias towards cash whenever possible.  Pretty much all the gift cards seem to redeem at $0.01 per point.  But since you can get a Visa Cash Card for $0.01 per point as well, we think that's the way to go.
I've actually applied for the Penfed Platinum Rewards Card and am still waiting for it (whole separate story which I'll write about), and once it arrives I will check out the airfare redemption options, but I don't anticipate them performing at more than $0.01 per point either.
Here are all the available rewards and redemption rates for this Penfed credit card.
GetDebit's Final Thoughts on the Penfed Platinum Rewards Visa Card
In short, this is a must-have card if you purchase gasoline regularly (especially with prices currently above $4.00 as of the time of this post).  With 5 points earned per dollar of spend on gas, and 3 points on groceries, it's white hot.  We like that there's no foreign fee and no annual fee too.
You can follow this link to apply for the Penfed Platinum Rewards Visa Credit Card..