If we learned anything from the financial melt-down of the past few years, its that an over-abundance of credit can lead to problems. Cash is king, and living within your means is cool. But without a credit card, how do you participate in a world where plastic is more common than paper? Simple. Debit cards are a great alternative to credit cards for people who want to live within their means and still be able to shop online, rent cars, take trips, and do the other retail stuff we know and love (and have come to expect).
Getting a debit card is becoming easier than ever.
A debit card differs from a credit card in that it a debit card is directly tied to a bank or deposit account and the amount of money that can be spent using a debit card is limited to the amount of money in the bank account itself. When a debit card is used at a retail merchant, the transaction "debits" or withdraws the amount owed from bank or deposit account associated with the card. Typically, the transaction happens rapidly and the funds are deducted that same day. Debit cards can also be used at ATM machines to get cash.
Different Ways to Get a Debit Card….
There are different types of debit cards, including bank debit cards, prepaid debit cards, payroll cards, gift cards, general purpose reloadable cards, charity cards, virtual debit cards, …. it seems that there is a different kind of debit card for almost any type of transaction. One thing they have in common is that there are basically three ways to get a debit card.
How to Get a Bank Debit Card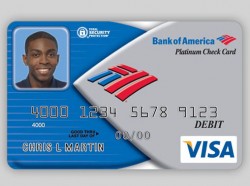 A bank debit card (also referred to as a "check card" or "ATM card") is a debit card issued by a bank and tied to a checking or savings account. People commonly get a check card or bank debit card when opening a new checking or savings account. Although the traditional method of driving to the nearest bank and sitting down with a "New Account Specialist" to open a checking account is still the most common way, many customers open bank accounts online (and get their debit card mailed to them).
When a customer opens a bank account, a bank debit card is usually made available by filling out a form or simply checking a box on a New Account profile. A secret PIN number is typically mailed with the bank card to the customer's home address. In many instances the PIN number can be designated or changed by the person on the account. Once the bank debit card is received, it might need to be activated by calling a toll free number attached on the face of the card.
Some people, however, cannot open a "regular" checking or savings account at a "traditional" bank. For example, some people may have had previous banking problems (and may be on the ChexSystems list used by banks to make their new account opening decisions) or credit report issues. Other people may not be able to afford the minimum balance required to qualify for "free" checking.
Those folks may still want the convenience of a debit card. An option for people in this situation is to get a prepaid debit card.
How to Get a Prepaid Debit Card in a Store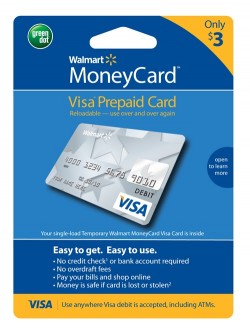 Ever notice those cards at the checkout counter of Wal-Mart, CVS, or a million other stores? Many of them have the Visa or MasterCard logo on them. Those are prepaid debit cards or gift cards. Check the packaging – if it says the card is "reloadable", it is a reloadable debit card that you can load with money at the checkout counter (and then reload in the future when you need to use the card again).
To buy one of these cards, simply take the card package to the cashier and the cashier the amount of cash you want to load on the card. You can then use the card for many types of transactions (and if you register the card, you can use it at ATM machines, and also reload the card when your funds run out).
When you buy a debit card at a store, you are given a "temporary card" that does not have your name embossed on it. If you want a "personalized" debit card, you'll need to take the temporary debit card home with you, and register the card online (or by phone). When you do the registration process, you'll be asked to provide information identifying yourself (often, you'll need to provide either your Social Security Number, Matricular or other consular identification). This identification is required so the bank complies with Federal "know your customer" laws. If you don't need a personalized or embossed card, you can use the temporary prepaid card to make purchases until the funds are used, and then you will need to purchase a new card if you want to reload or add more funds.
If you want to use the prepaid card repeatedly and reload it, register the card and get an embossed or personalized card. It will be mailed to you, and you can then use the card just like a bank account (that's why these cards are often referred to as bank account substitutes).
When you have used up all the funds on your debit card, you can reload it (if its a reloadable card) or simply throw it away (if it's personalized, make sure to cut it up). One of the more popular brands of debit cards sold at retail locations is are the Green Dot MasterCard and Green Dot Visa (sold at participating retailers including: Walmart, Walgreens, CVS/pharmacy, Rite Aid, Kmart, Kroger and Meijer).
How to Get a Prepaid Debit Card Online
Getting a debit card at a store is easy and convenient. But some of us like things even easier and more convenient (I like to call it "being efficient"…. others claim I'm being "lazy"). Those of us who like to be "efficient" can get a debit card online.
Most of the major prepaid debit cards (and many bank debit cards) can be purchased online. Shopping for a card online has another benefit — it allows you to easily research and compare different debit cards to pick the right debit card for your situation.
By comparing different fee structures and terms, you can pick the best debit card from the hundreds that are available online. Once you find a card that suits your situation, simply click on the card or application you like and an application form will be presented to you to fill out.
Some cards allow you to use the card immediately (assuming you have another account to load funds from, such as a PayPal account or other bank account). In most cases your card will be mailed to you for use. Most customers then load funds onto the card using reload locations or options such as the popular GreenDot MoneyPak, other major load networks or options are: Western Union, MoneyGram, Visa ReadyLink, PayPower and ReloadIT.
Once you've figured out how to get a debit card, always make sure to read the card terms and conditions and understand the fees.